What should I do if my TP-Link 4G LTE Router cannot detect SIM card?
If your SIM card cannot be detected by the TP-Link 4G LTE Gateway Router, please click here to login the web interface, then go to Advanced->Status page to check the SIM Card Status first:
Here we take MR600 V3 as an example: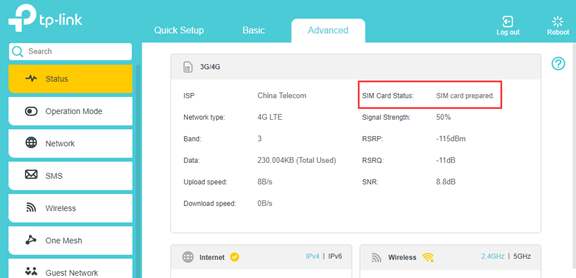 If the SIM Card Status shows "SIM card prepared" or "SIM card ready" but the Network Type shows "No Service" or just no internet access, it would be a different issue, please refer to the Troubleshooting Guide of No Internet Access
If the SIM Card Status shows "No SIM card detected", please try the troubleshooting steps below:
Step 1: Reinsert the SIM card, make sure it is inserted correctly and firmly
Different models or versions might have different SIM card slots, such as Micro SIM card slot or Nano SIM card slot, please use the corresponding size of your SIM card, you could refer to How to install a SIM card for my 4G Wi-Fi router
Step 2: Restart the 4G router while the SIM card still inserted into the device
Remember to check the SIM card status again on the Advanced->Status page
Step 3: Test the SIM card on another 4G Router or smartphone to make sure the SIM card itself is working fine.
Step 4: Try to insert a different SIM card if you have
Step 5: Try to factory reset the device by holding the reset button for about 10s until the power LED starts flashing
If the problem still exists after the above troubleshooting, please contact TP-Link Support and provide the following information:
1. Model number, hardware, and firmware version (please check the hardware version on the product label because the web interface might not show the small version, for example, V5.20 might only show 5.0 on the web interface)
2. The troubleshooting steps you have tried and the results
3. System Log file saved on Advanced->System Tools->System Log page.
4. When and where did you purchase it? Was it working fine before? And how did it start happening such as after a firmware update etc?
To get to know more details of each function and configuration please go to Download Center to download the manual of your product.