Troubleshooting Guide of Wi-Fi disconnecting issue on TP-Link MiFi devices
There are multiple factors that might cause your Wi-Fi disconnecting automatically. Please read possible solutions below, which may fix your Wi-Fi disconnecting issue.
Problem phenomenon:
1. Wired connection works fine and stable, only wireless clients disconnect automatically.
2. Wi-Fi signal disappears and re-appears automatically after couple of seconds.
For possible solutions, please check the following suggestion:
1. Disable power saving mode
All our MiFi devices support power saving mode and it is enabled by default. When no client devices connect or using the internet for a specific time(10 minutes by default), the Wi-Fi will be disabled automatically, you need to press the power button to re-enable the Wi-Fi. Therefore, if the issue usually happens when no client devices using the internet, it is normal, and to avoid such issue, you could disable the power saving mode.
Here is the related instruction:
Why my devices fail to detect the wireless signal of the Mobile Wi-Fi suddenly?
2. Change Wi-Fi channel from Auto to static one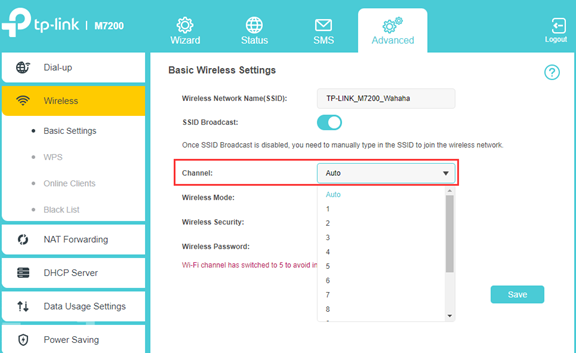 3. Set 4G LTE band manually
On our MiFi devices, there is a LTE-WLAN channel avoidance mechanism, the MiFi will detect if there is any interference between LTE and Wi-Fi, if so, the Wi-Fi channel will change automatically. That mechanism is to avoid interference between LTE and Wi-Fi, but if LTE band changes frequently, customer may experience frequent Wi-Fi disconnection and reconnection as well when Wi-Fi changes its channel automatically.
Therefore, if problem still exists after you set static Wi-Fi channel, you could also try to set 4G LTE band manually on Advanced->Dial-up->Network Settings page.
NOTE: only part of MiFi devices support to set 4G LTE band manually including M7200 V2/V3 and M7350 V5/V7, if you don't see the related settings, please skip this step.
4. Update to the latest firmware version
Check firmware update and make sure you are using the latest firmware.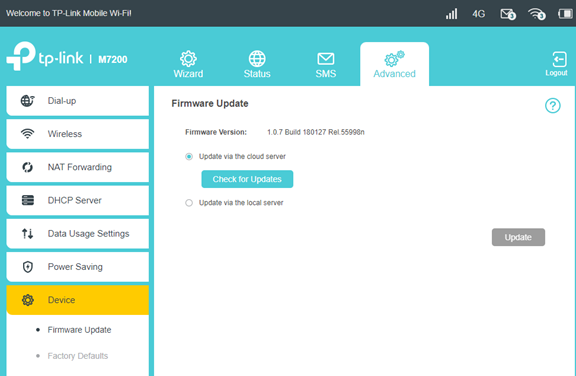 Related instruction:
How to upgrade the firmware of 4G LTE Mobile Wi-Fi from the screen and Phone web management interface (new logo)
After above troubleshooting, if the problem still exists, please contact TP-Link Technical Support and provide the following information:
1. Model No., hardware and firmware version of your TP-Link MiFi device, country and your ISP name.
2. Details of the problem such as Wi-Fi signal will disappear from available Wi-Fi list and reappear automatically, or Wi-Fi is connected but no internet access.
3. How many client devices usually connect to the MiFi? All the client devices disconnect at the same time, or only random devices disconnect?
4. Is wired internet stable or not if you connect to the MiFi via USB connection? (If it supports USB connection)
5. When the problem happens, will it recover automatically? or anything else you need to do?
6. When the problem happens, please don't reboot the MiFi device, try to login the web interface and save a system log file on Advanced->Device->System Log page and let us know the specific time of the issue.
7. How often does the problem happen? Was it working fine and stable before?
Get to know more details of each function and configuration please go to ​Download Center to download the manual of your product.